Summary
The summer of 2023 is more extremely hot than any previous summer in many places in the world. It makes clear climatechange will likely keep accelerating faster than previously believed, crossing several (irreversible) tipping points speeding up climatechange even more.
This blog argues we must start stratospheric injection right away as there is no safe path anymore that will avoid food shortages as UN experts tell us. We need to "halt / freeze" the problem to buy us time to cut emitting CO2 and burning fossil fuels.
Climatechange can be halted / frozen by stratospheric aerosol injection, which is cheap, doable and relatively cheap.
Yes geoengineering is scary and has uncertainties: but stratospheric aerosol injection is much more safe than runaway climatechange and runaway climatechange is almost certainly guaranteed at this point (read the article below for sources and argumentation).
Yes we must also, and with much more vigor, slash fossil fuel burning: But we don't have time to and keep the world safe for our children and wait for fossil fuel usage to stop. To buy us that time we need Stratospheric injection now!
Please share this blog widely and copy from it freely!
Witten by Hans-Cees Speel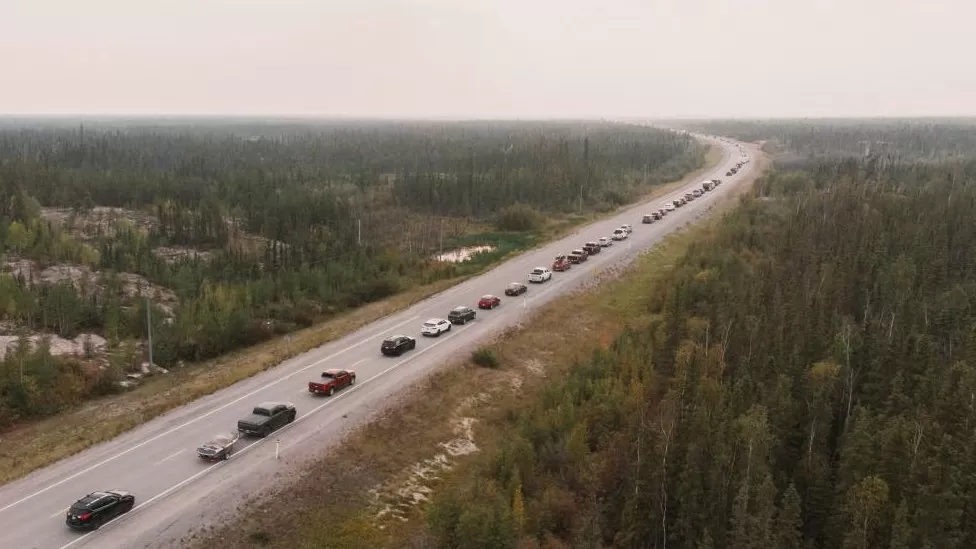 Summer of 2023: We can and must stop escalating climatechange destruction by starting Stratospheric aerosol injection now
This blog has eight paragraphs in which I will argue the following:
In summer 2023 climatechange has already show us how devastating climatechange already is
We MUST start stratospheric aerosol injection asap!: Because climatechange will increasingly fast get worse, lead to food shortages, nationalism and war (point 5-7)
Stratospheric aerosol injection is much safer than ongoing climatechange and far better then Co2 capture
Several rebuttals of arguments against stratospheric aerosol injection
Climatechange will likely proceed by crossing irreversible tipping points causing worse impact and acceleration. Tipping points are not reversible: once crossed there is no going back
When increases in intensity keep going on we will see food shortages, increasing fascism, nationalism and war
We are already locked in for far worse than 2023
Conclusion and who wrote this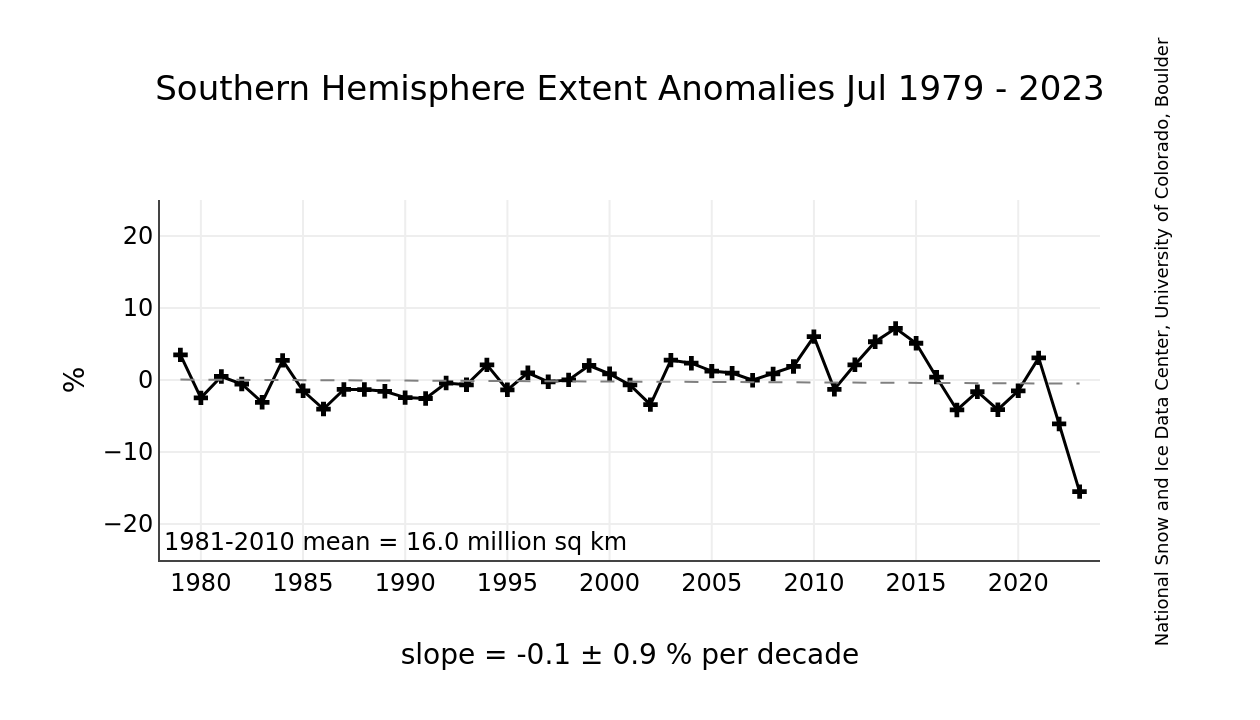 Paragraph 1
1. In summer 2023 climatechange has already show us how devastating climatechange already is
The summer of 2023 has shown us how climatechange fastly turns into climatedisaster. Just a bunch of news items to list what is going on. The real list of disasters is of course much longer
Rainfall has so intensified that we have seen many floodings, big and small. In Europe:
Extreme weather in Europe: A Norway dam partly collapsed, forest fires in Portugal led to evacuations, flooding in and around Slovenia led to blockage of highways and a damn reservoir had to be secured in Austria
Also record heatwaves and forest fires across the globe were in the news:
There is alas also negative heat news from the Atlantic ocean and global oceans:
Also bad news from the south pole:
Unprecedentedly low ice-growth during south-pole winter: Even as the Southern Hemisphere shifted into winter, Antarctic sea ice remained at record low levels. Unlike Arctic ice, whose dwindling is known to be closely tied to global warming, it's been harder to parse the reasons for changes in Antarctic sea ice extent. That difficulty has made it unclear whether changes are the result of natural variability or whether "something big has changed,". Not much has happened to Antarctica's sea ice until the last few years. But it's just plummeted."
The ice-melt at North pole and Greenland do not seem to melt faster than expected. Although it seems to be accelerating half august
The iconic picture of the sudden shift how climatechange intensifies is form the winter-ice sheets of the south pole, that do not grow back as they did in the post years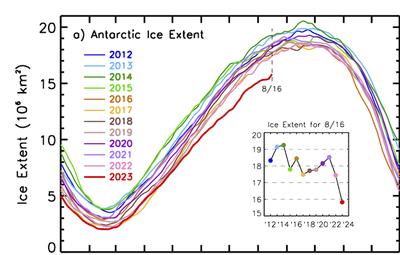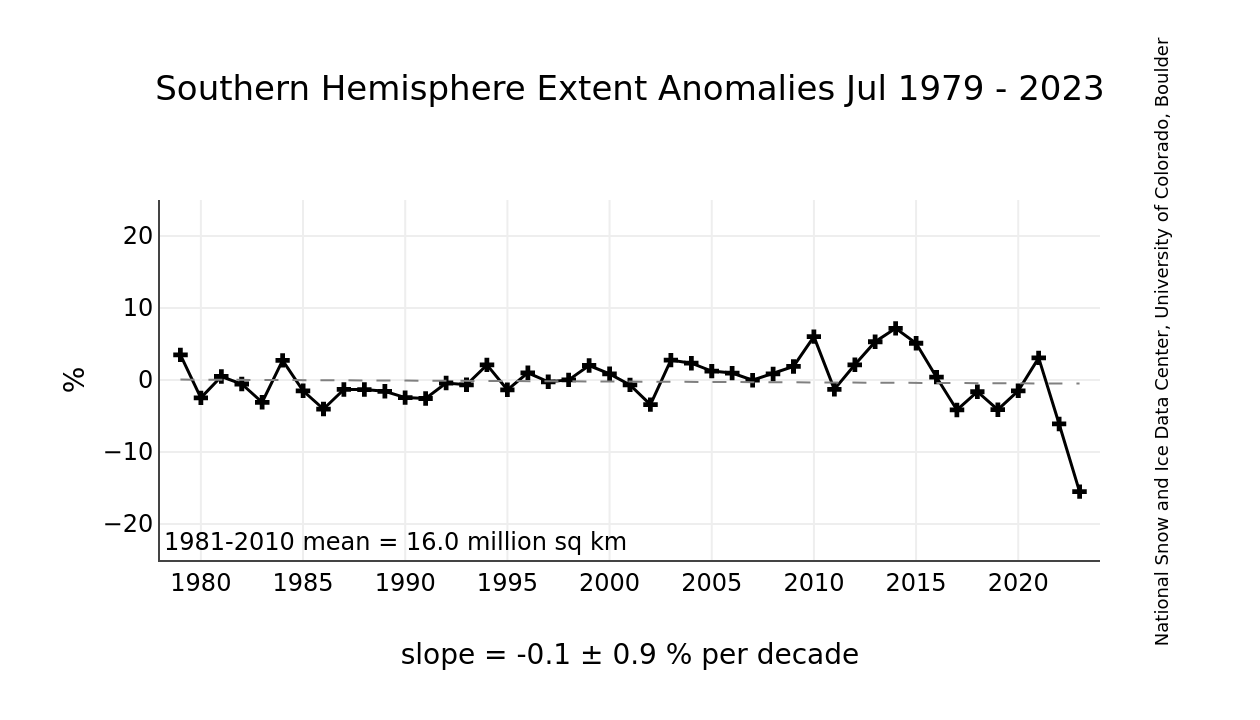 Paragraph 2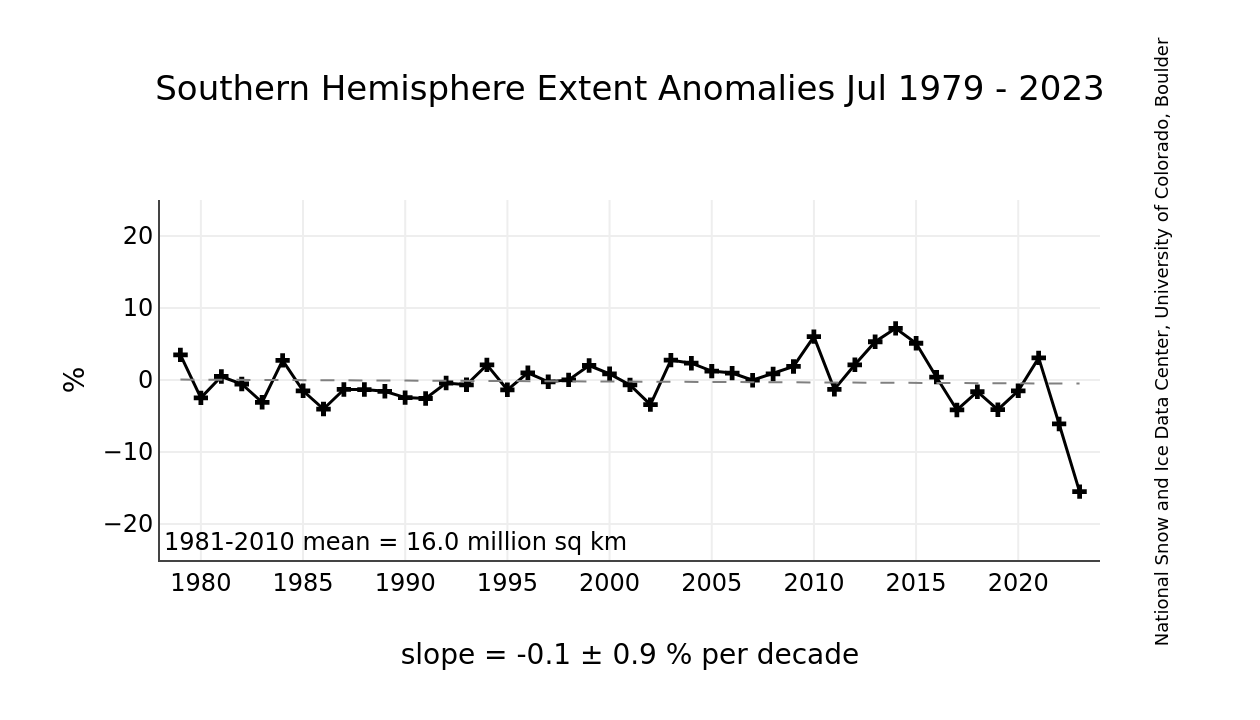 2. We MUST start stratospheric aerosol injection asap!: Because climatechange will increasingly fast get worse, lead to food shortages, nationalism and war (point 5-7)
Further along in this article I will argue how climatechange is already locked in to lead to food shortages already: even if we stop emitting all CO2 this year (which is impossible) impact will become much worse and will keep progressing toward more disastrous outcomes.
Given the above assumptions, we must act right away to stop impact worsening and there are no technological reasons we can't do it Wikipedia explains how stratospheric aerosol injection (of sulphur particles) is a form of SRM or Solar radiation modification. In effect stratospheric aerosol injection (I will call it SAI form now now), blocks sunrays from entering the atmosphere.
SAI will diminish further warming of the atmosphere and seas immediately, because it filters heat (well lightrays) coming in. Why is SAI a near ideal solution at this time:
Unlike other unproven geoengineering it actually works and it works fast and significantly. There is no doubt it will cool the earth. We have scientific data from volcanic eruptions that proof this. It is a proven mechanism.
It works right away. From the moment it is used it will work and atmospheric cooling begins. Compare this with CO2 removal: this takes decades to do anything at all (wikipedia tells as of 2023, CDR is estimated to remove around 2 gigatons of CO2 per year, which is equivalent to 4% of the greenhouse gases emitted per year by human activities). So CDR (carbon dioxide removal) for instance takers decades to make a dent in CO2 emission reduction.
It is (relatively) cheap. I've heard people arguing geoengineering will make big corporations even richer. In comparison for instance to CDR, the costs of SAI is insignificant. Big oil companies will profit from CO2 removal into gas-files, not from SAI
It stops working really fast again also, which is a great thing: should we inject too much it will disappear in just a few years
We seem to be dangerously close to crossing several tipping points: Amazon ecosystem collapse, AMOC changes, ice disappearance on the North pole, ice-shelve collapses on the south-pole. SAI is our only real chance to stop the crossing of these dangerous tipping points
***The Intergovernmental Panel on Climate Change concludes that SAI "is the most-researched [solar geoengineering] method, with high agreement that it could limit warming to below 1.5 °C (2.7 °F)." ***
##So lets start right away to limit climatechange damages !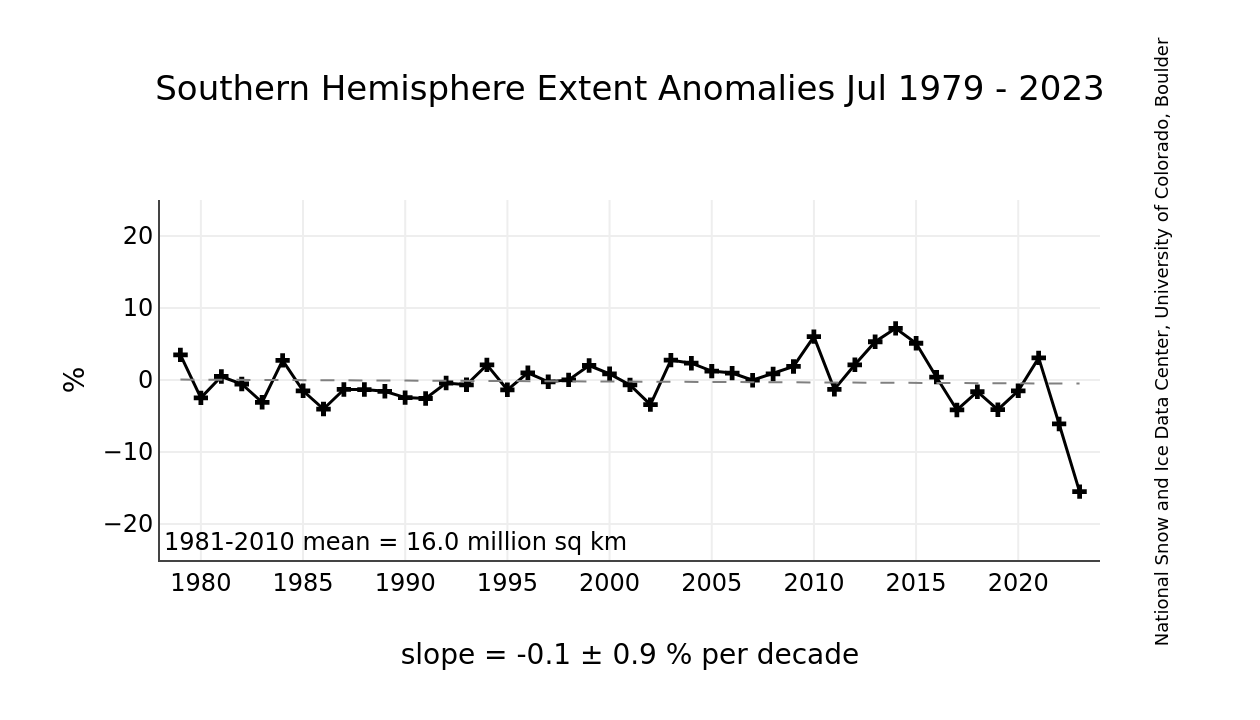 Paragraph 3
3. Stratospheric aerosol injection is much safer than ongoing climatechange and far better than CO2 capture
To my dismay, when I mention stratospheric aerosol injection, people react extremely negative, citing risks because "we should not meddle with the earth climate system, it is much too dangerous", and reactions like that. Have a look at this horrible article on geoengineering. Time and again all the non-working geoengineering facts are measured out in length and then thrown away with the bathwater is SAI without taking into account how madly large risks of current climatechange obviously are. As if stuck in an old record playing over and over again. Have you not looked at the news recently?
This reaction is understandable, but really, really WRONG. Why? Well:
Climatechange as it exists today has been one big geoengineering experiment all along. We as humanity have caused climatechange by knowingly or unknowingly implementing geoengineering (adding CO2 to the atmosphere). You cannot argue we shouldn't start to use geoengineering, when we are already doing that.
Another weird argument goes along the lines of "climatechange was caused by putting chemicals in the atmosphere, and SAI is more chemicals, so that is extremely dangerous and we shouldnt risk that". If you think about this hallucinate kind of reasoning its like saying: "Look, we have these children in this room and we took their food away and now they are crying from hunger. So someone wants to go in the room to bring them food, and you say "no don't bring them food, its messing with food that started all this" ". Are you kidding? Humanity is wrecking the earth climate systems and we should fix it right away of course.
The correct argument is this:
Climatechange is geoengineering, and its an ongoing process. When we let it rip we know the risks: they are extremely impactful with a highly likely catrastrophic outcome
SAI is also geoengineering. Its outcome will significantly downsize the imminent and highly probably risks of the first kind of geoengineering (climatechange). SAI itselve also has risks, that are really minor risks at worst, compared to risks of worsening climatechange
The small risks of SAI (stratospheric aerosol injection) are negligible compared to the huge risks of ongoing climatechange. The result of SAI is significant less damage by climatechange. So we MUST start right away!!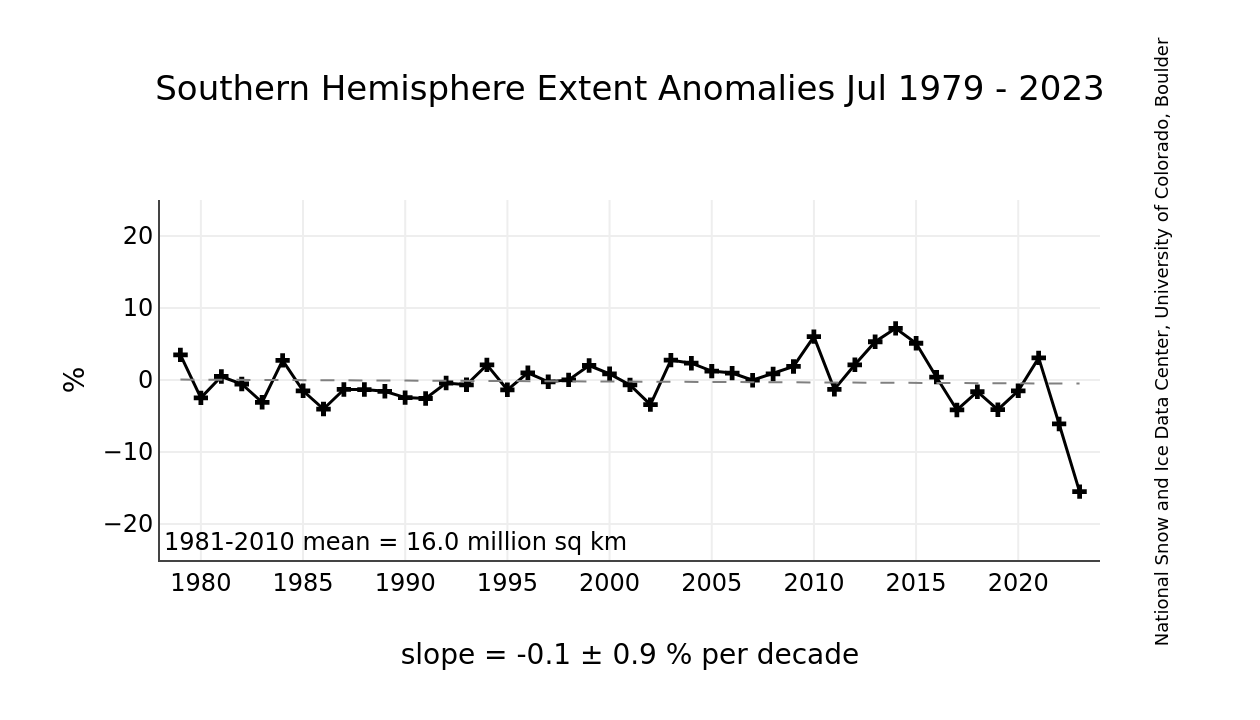 Paragraph 4
4. Several rebuttals of arguments against stratospheric aerosol injection
I have already rebutted several erroneous arguments that unjustly keeps SAI hidden from a real discussion on world-scale. I will add some more so if you start telling other people about SAI you can counter these false arguments right away.
Rebuttals of false arguments against SAI:
SAI is geoengineering and that's dangerous, we shouldn't start with geoengineering. See above: climatechange is also geoengineering and SAI will counter the harmful effects of climatechange. Humanity has caused problems and should solve them as well.
SAI is the wrong solution, we should stop emitting CO2 and other gases. This argument is really false: that one solution is right does not mean the other is automatically wrong. Reducing greenhouse gases is the only lasting solution to climatechange: that is true. But cutting emissions takes far too long to protect the earth climate system right now and it does not stop the already locked in climate change effects. We need multiple solutions at the same time
If we start SAI right-wing people and oil companies won't cut back emissions because they will have an excuses not to. Well this is of course a real risk. But this risk is already a big problem of course, also without SAI. So this risk will stay a constant problem we will have to deal with anyway. However, it is highly unethical to not use SAI and counter harmful effects of ongoing climatechange because of what oil companies say or do: they are evil either way. We should do what is good for humanity and ecosystems: and that is start SAI right away. I think the majority of humanity wants to get rid of oil and fossil fuels and the movement toward sustainable energy is unstoppable: it just takes long.
We don't need this dangerous SAI / geoengineering, because as climatechange gets worse people will start cutting back emissions faster and that is what we really need. Again we are already geoengineering and its gone horribly wrong, we should correct that. Beside that point already made above, people won't start cutting back emissions when things get worse. If we learn from history, when things get bad (hunger strikes, prices sore), people will vote for "strong leaders" and these leaders will simply deny climatechange exists and more likely start wars and will certainly let the most vulnerable people starve. Since Trump sand Brexit we know what insanity politics produces when it is in bed with big-oil. If climatechange worsens likely emissions won't go down at all: we need a world without constant disasters to solve this problem, and therefore we need stability and strong democracies. SAI can give time to cut back on emissions in a relative stable world.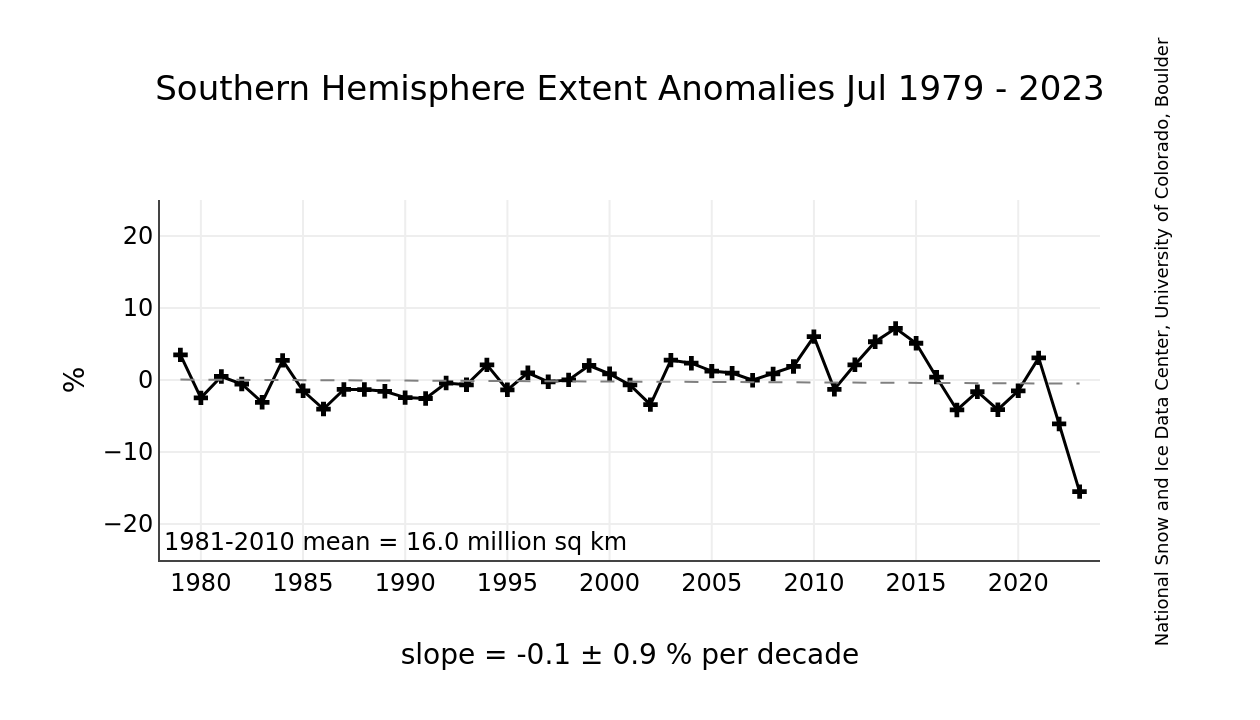 Paragraph 5
5. Climatechange will likely proceed by crossing irreversible tipping points causing worse impact and acceleration. Tipping points are not reversible: once crossed there is no going back
![Tipping points in the climate system]["/images/SAI/Climate-tipping-points-en.svg"] Source of image here
Climatechange has several properties not everybody might grasp fully right away. The take away from these insights is this: it is very dangerous to wait and see if the impact of climatechange becomes even worse. Because of already locked in warming, that's not yet showing, and tipping points that once crossed, cannot be turned back, we really must act now.
Climatechange is not like the thermostat in your room you can turn up and down. It is rather like if room-temperature goes over 35 degrees Celsius, the heater brakes down and you can't put it off anymore and it keeps getting hotter.
This is because of the following effects of climatechange:
Lag Effect. Climatechange has a huge and long lag-effect: this means that if we see such extreme effects of it in 2023 and we would stop emitting CO2 (which we won't, mainly because of politics) the effects will keep getting worse for years to decades. It is important to understand that we have already "dialed in" so much heat into the earth system, climatechange will keep worsening for a long time: even if we really start to smoke out big-oil and all the politicians it has bought and persuaded in every country of the world.

Tipping points and thus the (largely unknown) non-linear properties of climatechange. Most likely climatechange will not gradually worsen. It will worsen suddenly, worsen gradually again for a while and then suddenly worsen greatly again and so on. This is caused by tipping points that suddenly change the whole system. That tipping points will occur is partly predictable, but when and how they will alter the climate system is not. Take for instance the warming of the poles. Science has predicted that warming earth temperatures would lead to less ice. But science did not predict this would cause the jet-stream to start wobbling, which in turn accelerated ice-melting on the north-pole because warm blobs of air suddenly could move from south to north, which they did. So suddenly ice-melting became faster than predicted and the poles warmed up much faster than predicted.

Tipping points might often also be irreversible. This means that if we stop emitting CO2 tomorrow, and after that even lower CO2 levels, a tipping point like the north pole having no ice at all all year long, will not reverse. This may produce a different climate system as the one we had. Nobody can predict these things for sure. Also a dying Amazon forest might never return or if the AMOC stops, it will never start again and the climate in Europe may change for centuries even if climatechange is halted. An
For those who want to read more here are some pointers about various tipping points: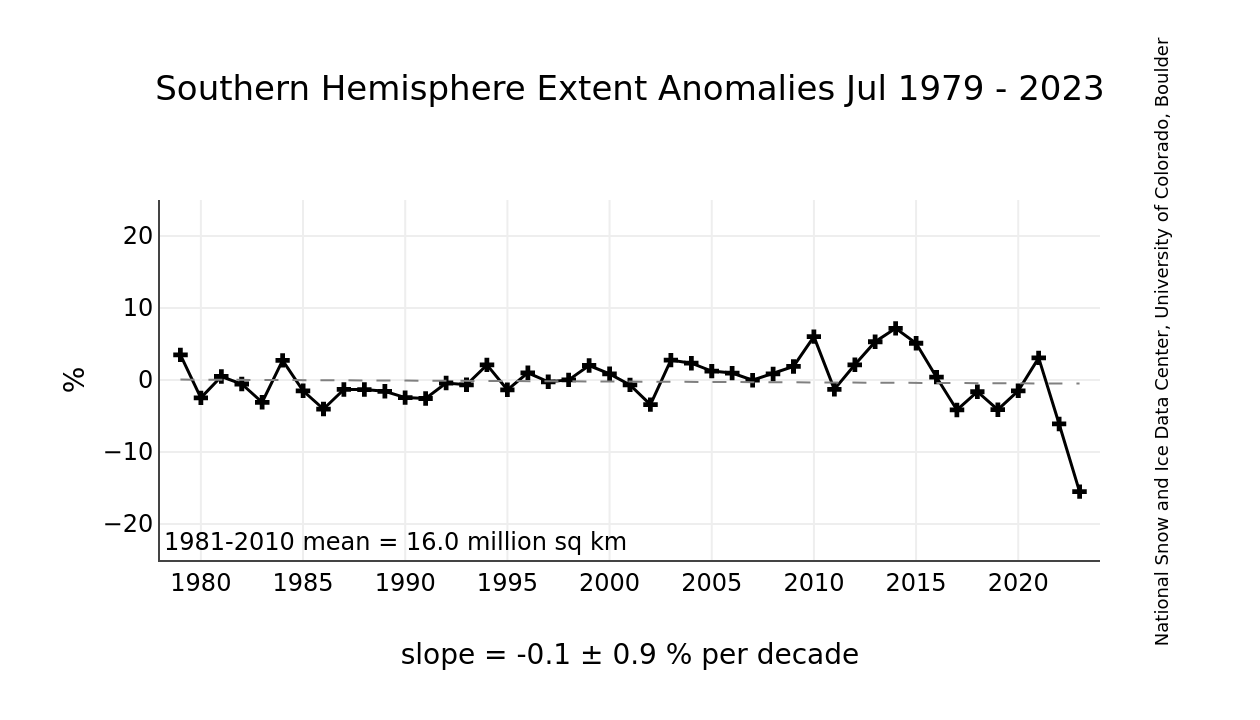 Paragraph 6
6. When increases in intensity keep going on we will see food shortages, increasing fascism, nationalism and war
The grave danger of climatechange is however not the threat of how the hotter temperatures and floods directly endanger humans that undergo these tragedies. The grave danger to our societies and civilization is the threat to our globalized food systems. Our civilization is ultimately built upon food security and thus our ability to grow crops on a large scale, fishery and the availability of water for humans and crops. When crops fail, food gets scarcer and prices go up.
The following articles describe these shortages will actually happen:
Some articles about loss of water:
The forth article on food shows how India is protecting its food prices by banning exports of Rice. The connection between food shortages and how countries will react is clear: because it is general knowledge food prices going up will lead to uproar.
Of course a direct connection between food shortages, fascism and war cannot be proven: however, for those that need this pointed out:
Food shortages lead to people not being able to pay their bills and a general sense of anger and discomfort
This leads to people voting for change and opens opportunities for populism
In many western countries many far-right populist to outright fascist parties exist.
Food shortages will likely put populist parties into power, or will make less populism minded parties to adopt populist ideas.
The outcome of these scenario's are unpredictable, but my point is this: A world on the brink of disaster will likely not search solutions: it will search for scapegoats and denial. To solve climatechange we need stability
The theory of food shortages as a root cause for war can be red here for instance:
War is often preceded by tensions, of which there are many potential sources. Tensions can arise from shortages of water, energy, and, not least, food. For example, as Torreon Creekmore,3 of the Intelligence Advanced Research Projects Activity in the USA, reflected: "When crops fail and prices rise, people don't have the money to purchase food, which can lead to stealing, then riots, social unrest, and mass migrations."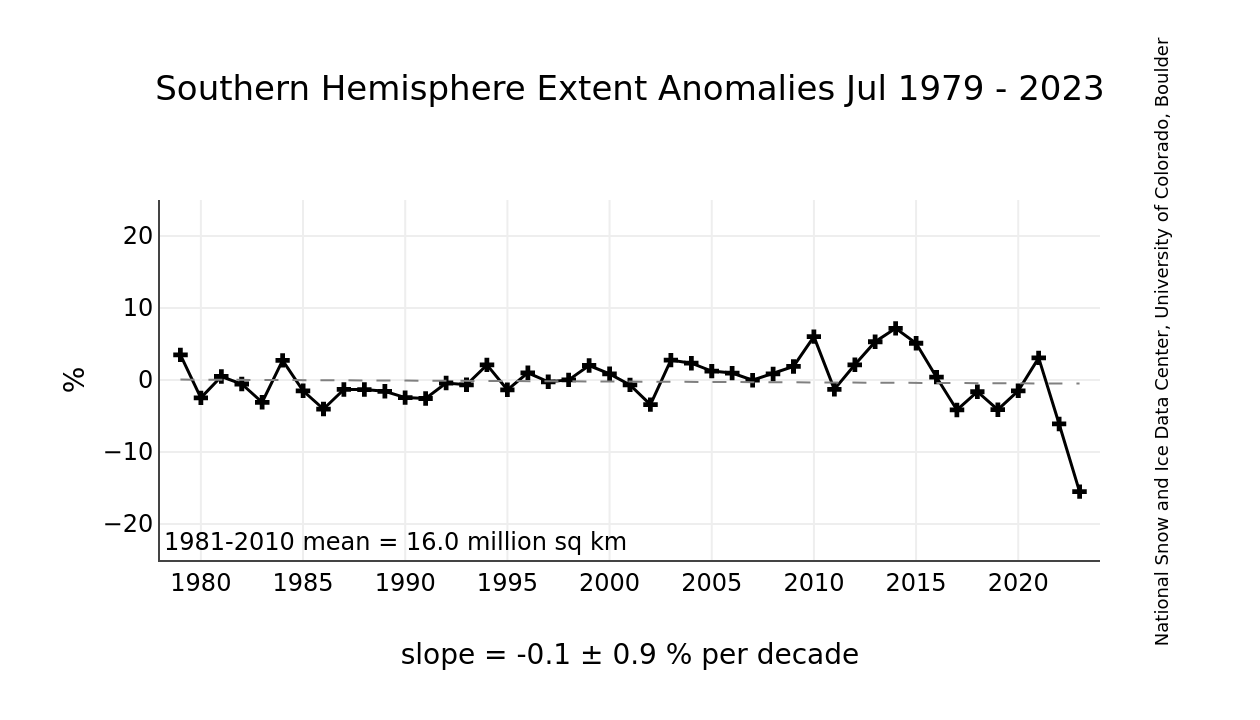 Paragraph 7
7. We are already locked in for far worse than 2023
It is general knowledge that while 2023 was a year that shows more clearly than ever how climatechange will get worse, a lot more impact is already in store and cannot be avoided anymore.
Some articles that describe this:
James Hansen: There Is a Lot More Warming in the Pipeline and Biggers science story of the week youtube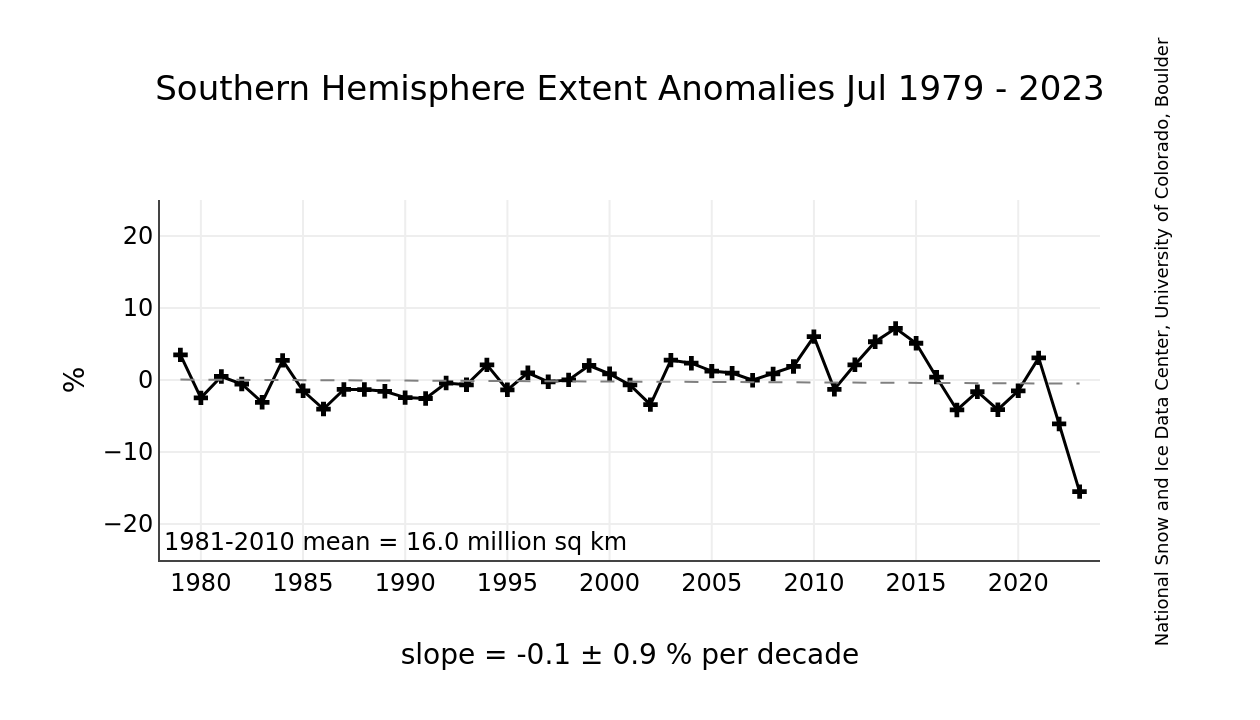 Paragraph 8
8 Conclusion and who wrote this
The conclusion of this blog is of course what the beginning tells you, since not many people will read all the way until the end:
Climatechange is madly out of control and the level of panic is way too low. Scientists are grieving and mourning and we are really living the movie Don't Look up.
Humanity has a solution that can stabilize the climate right away, but there isn't a real discussion, probably because people can't grasp how deep in climatechange shit we really are, wrong leftists memes clog up the debate and our leaders are incompetent or have been bought
We should start experimenting with stratospheric aerosol injection tomorrow or rather last year.
To avoid a war over SAI the united nations should probably govern SAI goals and China and the USA should implement it together (or some other way must be found where nations with competent scientific engineering work together) .
Climate change disaster can be avoided by SAI and it is our duty to protect the next generation.
Who wrote this blog.
Hans-Cees Speel is a father of 55 years old with two children he would like to see having a future. He has a university degree in both Ecology and Environmental sciences (Natuurwetenschappelijke Milieukunde in Dutch). His Crappy website is here Please post your feedback on this blog on mastodon aimed at Hans-Cees